Let's talk trade rumors circulating in the media involving Randle, Clarkson and now Larry Nance Jr.
Message to Laker brass:  Nance is a fan favorite.  We love to watch him "sky" to slam dunk the ball; he plays mean defense and gives 100% every time he is on the floor.  He's not someone you trade away, he's the type of player you trade for!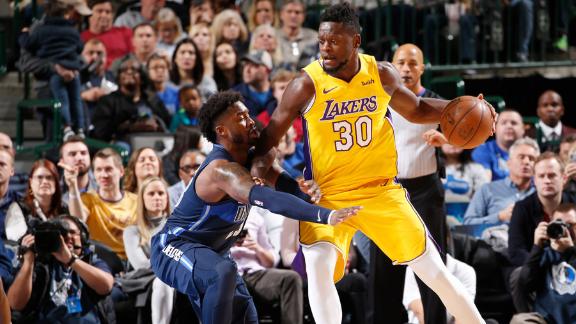 Why trade Randle and Clarkson?  They are valuable assets for the Lakers now and going forward and Nance too!  All three have considerable up-side and fit in well with the other players.
And the Lakers don't need expiring contracts to make cap space for the possibility (key word possibility) of signing superstars next season.
Here's what they do … they bite the bullet now and get rid of Luol Deng's contract with $36 million remaining.  Buy him out and say "bye bye".  I
don't know exactly how they accomplish this but that's what lawyers are for.
With Deng gone and no trades, here's the roster for next year:
Ball, Ingram, Kuzma, Hart, Randle (with a new deal), Clarkson, Nance, Ennis, Bryant and Zubac.
By getting rid of Deng's awful contract and signing Randle to a new contract, the 2018 team salaries will be roughly $51 million with the NBA salary cap reportedly to be $101 million.  So that leaves the Lakers with $50 million to sign free agent De Marcus Cousins who should be happy with a new contract that pays him $31 million the first year.  The  Lakers will then have more than enough, $19 million, to fill the remaining slots with good role players.  I would like to see them sign a back-up point guard who plays with pace and loves to pass the ball (sorry Ennis, but that's not your game).
THIS ROSTER GETS THE LAKERS DEEP INTO THE PLAY-OFFS, KEEPS THE FANS HAPPY AND SHOWS THAT THE LAKERS ORGANIZATION SUPPORT A STRONG TEAM CONCEPT, THE WAY TO BE SUCCESSFUL IN TODAY'S NBA.